Sister Publication to Poetry Life & Times
Issue of November 2016
NAMING THE BEETLES
A Poem by David Chorlton
A dozen beetles suddenly
are clustered on a leaf,
black with red designs
on their glistening backs

with six more farther
down the stem.
What can we say
we are seeing? Drops

of poison or a sweet
confection from
the spirit world? Pinpricks
on a lacquered base

or the blood
from an animal so long extinct
it has to bleed from
an adopted skin?

They shine in a manner
almost sinister, yet
the way they cling
to each other

suggests they have arrived
as a message conveyed
through space and time
as a warning to act

in the common interest
before it disappears.
Soon enough
they leave us wondering

what was here
with a gloss and such
delicate legs they must
have walked on light

to wherever they went.
David Chorlton
is a transplanted European, who has lived in Phoenix since 1978. His poems have appeared in many publications on- and off-line, and reflect his affection for the natural world, as well as occasional bewilderment at aspects of human behavior. His most recent book, A Field Guide to Fire, was his contribution to the Fires of Change exhibition shown in Flagstaff and Tucson in Arizona.
--------------

✿✿✿✿✿✿✿✿

--------------
In Loving Memory of Janet P. Caldwell February 1959 ~ 20 September 2016.
William S. Peters, Sr.

weep not for me

weep not for me,
nor despair, nor lament,
on my crossing the waters,
for my life has been full,
for i had you

i go to a better place,
where i shall make a bed for you
as i longingly await your arrival,
for we are eternally betrothed

i shall have the angels sing
a song of welcome . . .
and the flowers of the field
shall dance gleefully
in the embrace of brother wind

the sun always shines here
acknowledging our mutual brightness
where the night-ness
is no more

so i ask of thee
to weep not for me
nor despair, nor lament
on my crossing the waters,
for my life has been full,
for i had you
Bill is an avid Writer / Poet who has been committed to this path since 1966. He currently has to his credit over 70 Published Books as well as a myriad of Newspaper and Magazine Articles. Bill supports the venue of Creative Expression regardless of form. He also is an activist for the progression and evolution of Humanity and its Love of each other.
Recently (September 2015) Bill was honored to be named the Poet Laureate at the Kosovo International Poetry Festival where his book The Vine Keeper was showcased. He was also awarded The Golden Grape Award.
Bill currently serves as the CEO of Inner Child Enterprises, ltd., Managing Director of Inner Child Press, Executive Producer of Inner Child Radio and Executive Editor of Inner Child Magazine. His life partner Janet P. Caldwell stands by his side in support of the Inner Child vision
For more of Bill, visit his personal web Site at :
www.iamjustbill.com
--------------

✿✿✿✿✿✿✿✿

--------------
Loop.
A Poem by Amitabh Vikram Dwivedi
It was a play,
A simple manipulation,
When your fingers ran parallel-
Crosswise
Or lengthwise,
And you created a loop.
But it was not a play,
Only a manipulation,
When your fingers ran parallel-
Crosswise
And lengthwise
And you suspended yourself
Into that loop.
As a child, I know mother that-
Now



you

Are Not
living.
Amitabh Vikram Dwivedi
is assistant professor of linguistics at Shri Mata Vaishno Devi University, India. His research interests include language documentation, writing descriptive grammars, and the preservation of rare and endangered languages in South Asia. He has contributed articles to many Science Citation Index journals.
His most recent books are
A Grammar of Hadoti
(Lincom: Munich, 2012),
A Grammar of Bhadarwahi
(Lincom: Munich, 2013), and a poetry collection titled
Chinaar kaa Sukhaa Pattaa
(2015) in Hindi.
As a poet, he has published more than 100 poems in different anthologies, journals and magazines worldwide. Until recently, his poem
"Mother"
has been published as a prologue to Motherhood and War: International Perspectives (Eds.), Palgrave Macmillan Press. 2014.
--------------

✿✿✿✿✿✿✿✿

--------------
Enduring the anguish of thinking… A Poem by Richard Lloyd Cederberg
"There was only the cemetery itself, spread out in the moonlight like a soft grey hallucination, a stony wilderness of Victorian melancholy." (IN MEMORY)
(I)

How silently
And stern these
Straining days pass,
Where, at times, in open tyranny,
Scattered thoughts scramble
For measured application…

O dismay,
Each day
Embracing (the
Great word 'WAIT'),
This (at times) tragic fate
Impelling the mind to reengage
With something other than
A wearied wide road
Worn smooth…
Another fluster putting glory on
[Hoping] to rediscover where
Newness is apparent, and where honest
Happiness is more than a shadow of things past…

Throughout life
(I've) known thinking
That piled-up (at times)
Like a day's dead sanctities;
Thought-quakes pricked with panic –
Like vexed birds flailing on windowpanes –
Thoughts – in rising currents wild with leaves –
Trembling in trepidation at the tumults of the day,
But clinging to where Earth and Heaven meet crying:
O Burning Lion – Creator, from whom flows
The substance of all fresh thinking;
Help me bear this anguish…

(II) AN APPEAL…

O breath of life…
Breathe on this mind that broods
(At times) so helpless and unnerved…

…From the utmost corners,
O divine breath,
Command my lassitude
To drift from me like a whisper

Preserve me from these penumbras
Where despair shrieks in the belly of clouds;

And, where from all dark-lipped furrows,
Hubris strolls in chatoyant silk

…From the four winds come,
O breath,
To breathe upon
These outworn motivations,
That this slain heart could rise up
To write rather of life than of death

… From the uttermost parts,
O breath of life,
Breathe on me that I might suspire
As an Eagle stirring its nest;
Hovering over its young;
Spreading forth its majestic wings
To carry each of them up to the high-places;
For it is your breath (alone) O God that sustains me…

richard lloyd cederberg

10/16
"Then the Lord God formed a man from the dust of the ground and breathed into his nostrils the breath of life, and the man became a living being." Genesis 2:7
BIOGRAPHY – Richard Lloyd Cederberg
Briefly… concerning published books, books being written, poetry, poetic/prose, and creative-writing: Richards written work has been featured in Poetry Life and Times – Artvilla, Motherbird, Taj Majal Review, Authors Den (page includes Poetry ~ Short Stories ~Articles) Christian Story Teller, the Mississippi Crow Magazine, the Path Magazine, Hardy Alpha 1, The Journal of Contemporary Haibun, and a variety of anthologies, compendiums, and e-zines. Richard was nominated twice for the PUSHCART PRIZE. 2007 BEST NEW FICTION at Christian Story Teller. 2006 WRITER OF THE YEAR @thewritingforum.net (sadly defunct)…
Books include:
The MONUMENTAL JOURNEY SERIES
(adventure/mystery/historical fiction): 1.
A MONUMENTAL JOURNEY…
2.
IN SEARCH OF THE FIRST TRIBE…
3.
THE UNDERGROUND RIVER…
4.
BEYOND UNDERSTANDING.
A new adventure/thriller,
BETWEEN THE CRACKS
is also available. A new eschatological drama –
AFTER WE WERE HUMAN
– is being written. Follow the lives of several friends as a new race of ageless multi-dimensional humans comes back to Earth with their Creator to rule and reign for 1000 years.
www.authorsden.com/richardlloydcederberg
--------------

✿✿✿✿✿✿✿✿

--------------
Slither. Sonnet Poem
by Norman Ball
Accomplicing that plot device, surprise,
the day shone royal blue. Our Sunday walk
assumed pedestrian guise until her lies
constricted near Unending Books. In mock-
submissive tone, she sighed: "Please let me be
right here, outside our favorite used-book store.
It's where we met. All circles close a door.
That's symmetry — the poetess in me."
I pondered the reflection of my self
on Austen, half-price-off; then for a song,
the poets, ancient children, on a shelf
set up on crumpled velvet. All along,
this princess had availed a serpent-guide.
I was the frog to her formaldehyde.

NORMAN BALL (BA Political Science/Econ, Washington & Lee University; MBA, George Washington University) is a well-travelled Scots-American businessman, author and poet whose essays have appeared in Counterpunch, The Western Muslim and elsewhere. His new book "Between River and Rock: How I Resolved Television in Six Easy Payments" is available here. Two essay collections, "How Can We Make Your Power More Comfortable?" and "The Frantic Force" are spoken of here and here. His recent collection of poetry "Serpentrope" is published from White Violet Press. He can be reached at returntoone@hotmail.com.
--------------

✿✿✿✿✿✿✿✿

--------------


Eyes | Poem by Janet Kuypers
eyes

Janet Kuypers
started 4/4/15, finished 4/6/15

Growing up,
boys didn't like me,
kids made fun of me.
I was raised to think
that I was a plain girl,
easily overlooked.
I'd look at my eyes,
the same eyes my dad
thought made me

always look sad,
and wanted to think
that the song

"Brown Eyed Girl"
could have been
about me.

How silly of me.
I should know better.
And maybe that is why

I've always loved
blue eyes.
Eyes not like mine.

#

The eye is a fascinating thing,
it's beautiful to study,
especially yours…

If I were a biologist,
I'd take high-res photos
of that eye of yours,

maybe magnify it as large
as I could, so I could study it
like a slide under a microscope.

I would search for meaning
in those mesmerizing patches
and shades of that unique blue.

#

They say science
can explain all,
so maybe it can explain

why I'm so in love
with your eyes, or why
I'm so in love with you.

#

Eyes are our windows
to the outside world, but
they're also portals inward,

giving us mere mortals
fleeting glimpses
to who you are inside.

I think our colored irises
floating on an ocean of white,
punctuated with a pupil

were designed that way
so we could follow
each other's gazes closely.

I'm watching you.
You probably see that.

I hope you'll watch me too.

Because scientists
have studied the crypts,
pigment dots and furrows

of the eye, and scientists
are now figuring out
that the eye really is

the window to the soul.

So, maybe I was
on the right track

by loving your eyes,
and never wanting
to lose sight of them again.
Eyes © 2016. First published at Scars.tv Eyes Poem
Visit
Artvilla.com
to hear an mp3 of this poem read by
Michael Lee Johnson
with music by Dave Jackson
--------------

✿✿✿✿✿✿✿✿

--------------


Key of Mist by Guadalupe Grande
Streets, courtyards, squares, cages, a microcosm of urban power...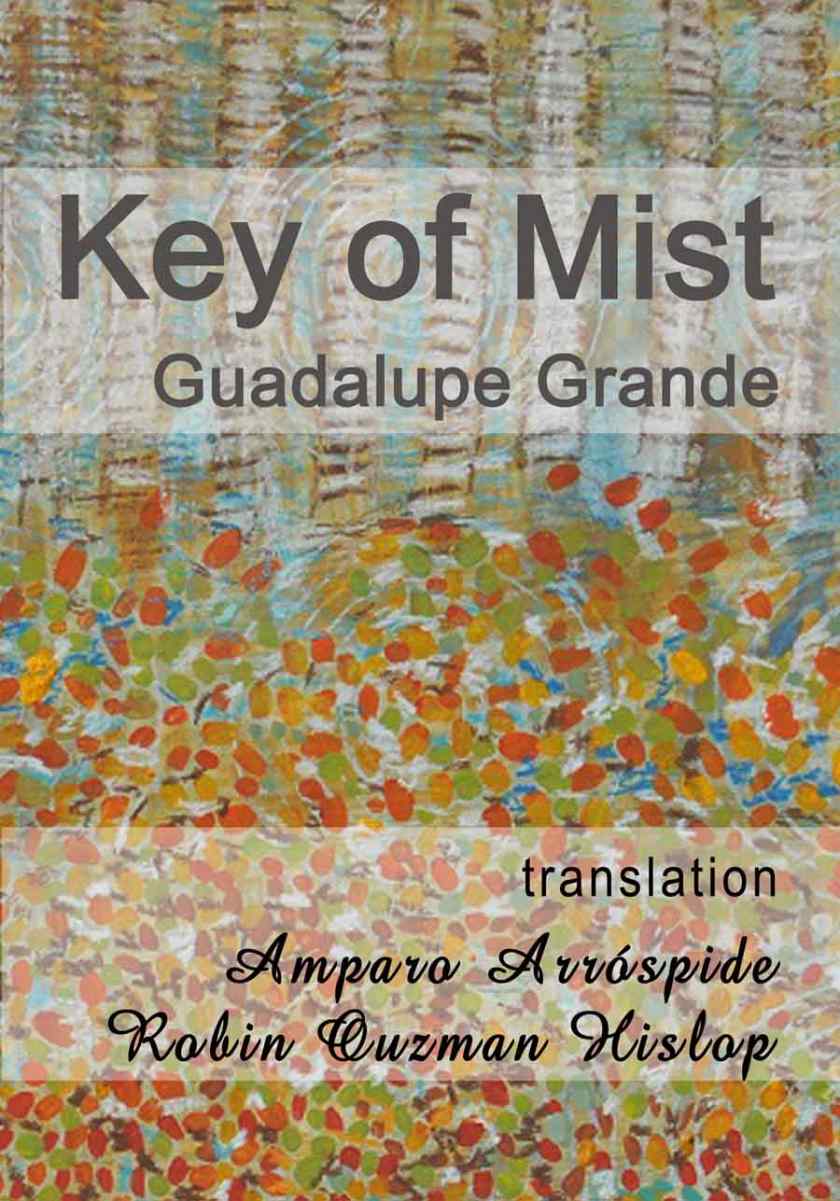 BRUSSELS, Belgium
-
Oct. 11, 2016
-
PRLog
-- ...the text of the city inhabited by the signs of the artefact and chaos of Babel, the personification of the labyrinth, a moral monster with a fortress-house for a body and a shelter for the desolation of shipwrecked as a head. Here, Guadalupe Grande's Key of Mist (La llave de niebla, translated to English by Amparo Arróspide and Robin Ouzman Hislop) maps the city soul, where linguistic chaos rearranges the poems' voices.
The city, the other civilization, the greatness and the spectrum of its intrinsic ruin, a memento mori for the urban castaway on the waves of asphalt. (...) Such is the ethical landscape in which Guadalupe Grande displays the moral alphabet of her poetic truth, recognizing the city as a hyperspace, where the epic idea of homeland, the country´s ideological circumstances, the historical concept of nation are devastated by the innocent look of someone who does not understand the rush, does not accept the urgency of sacrifice imposed each morning by the necessity of work, the laws of domination, the salary of loneliness.
~Juan Carlos Mestre
EN RELATIVO
Que el mundo es imposible. Que las calles no pueden cabernos en el pecho. Que nada cabe en el hueco que le está destinado y así nos van las cosas. Que las hojas de los árboles siguen cayendo y el mar sigue diciendo una palabra que no podemos descifrar: una palabra en movimiento, una palabra en la que cabe el tiempo. Que estamos hechos de tiempo, pero no de mar. Que llevamos la cuenta del tiempo que vivimos, mareados, como si pudiéramos llevar las cuentas del mar. Que contamos la lluvia de los días y los pasos tartamudos de las horas. Que hacemos balance de minucias. Que se nos caen las palabras de la boca, sin entenderlas, como la nieve se aturde en el asfalto. Que confundimos la nieve con la sal, los relojes con la sangre, el pecho con un garaje, y nos consolamos creyendo que todo es relativo, como este pronombre.
WITH A RELATIVE PRONOUN
That the world is impossible. That streets won't fit in our chest. That nothing fits in the niche for which it's intended and that's how things are. That the leaves of trees go on falling and the sea goes on saying one word we can't decipher: a word in movement, a word that fits time in. That we are made of time, but not made of sea. That we count the time we live as dizzy, as dizzily as if we could count the sea. That we count the rain of days and the stammering steps of hours. That we make fuss about trifles. That words drop from our mouth, without understanding them, like stunned snow on a pavement. That we confuse snow with salt, clocks with blood, the chest with a garage, and we console ourselves with thinking that everything is relative, like this pronoun.
POSTAL I
(Vista del horizonte desde la Costanilla del Farol)

Nada hay como estar lejos
y no saber dónde meternos;
contar los pájaros que emigran,
buscar la arena en el asfalto
y acurrucarnos bajo una farola
con espigado espíritu de álamo
mientras el tráfico de la noche
dice su palabra de río
que no llegará nunca al mar.

Una ciudad, hoy, es estar lejos.

POSTCARD I
(View of the horizon from the Alley of the Street Lamp)

There's nothing like being far away
not knowing where to get into;
counting the migrating birds,
searching for sand on the pavement
curling up under a street lamp
with the slender spirit of a poplar
while the night traffic
utters its river's word
that will never reach the sea.

A city, today, exists to be far away.
To order:
http://www.lulu.com/shop/guadalupe-grande/key-of-mist/pap...
--------------

✿✿✿✿✿✿✿✿

--------------
Barbara Crooker Selected Poems / 2015 available on amazon.com
by Barbara Crooker




This collection brings together 102 poems from Barbara Crooker's previous ten chapbooks of poetry, two of which won national prizes, with a handful of uncollected poems at the end. Of Crooker's work, William Matthews has written, "Barbara Crooker's poems have been written with a deft touch and with that affection for their textures and pacings that we're accustomed to call, a little dryly, 'technical skill.' It's a form of love, actually, and since she's expended it on her poems, we can, too." Janet McCann, writing in the Foreword, says, "The poems in this collection come mostly from chapbooks, collections which cluster around a theme, such as loss of a parent or friend, raising a child with autism, travel, art. Crooker's collections are remarkable for their unity; their poems, epigraphs, even covers have a thematic thrust that collects and directs the work, making each a coherent work of art.... Reading the work from beginning to end provides an experience of Crooker's world, that place of work and sadness balanced by art and love. It also provides vignettes of growing up in the fifties and sixties and shows what it was like to come of age as a woman in those years—the expectations, the hopes, the barriers that had to be overcome. Even in poems of loss, the energy persists, giving us the sense that Crooker is truly in the current of life, feeling its verve—what Wallace Stevens called 'the intensity of love' that he identified with 'the verve of earth.'"
--------------

✿✿✿✿✿✿✿✿

--------------
All the Babble of the Souk
by Robin Ouzman Hislop
Click book image to visit the Amazon page
Poet Robin Ouzman Hislop's first full-length collection, All the Babble of the Souk, is appropriately titled. With a remarkably consistent ear for the market's noise, for "[t]he broken lights of the bazaar/spangled] with glistening promise/in the eyes of the dusky beggar …" (Laminations in Lacquer ) Hislop's poems, many of them cinematic-style montages of sounds and images, show us the metaphoric souk of the world, on the beach or in the street, its glitter, its sadness, its ragtag glory:
"pets, flower pots framed captive in a moment




outside the house of the painter, a robot




in chains with an alms bowl"
("Departures") ...Read more of this review by poet Miriam C. Jacobs
More Reviews for this book:
--------------

✿✿✿✿✿✿✿✿

--------------
Michael McClure & Ray Manzarek - For Jim Morrison


Janet Caldwell - Dancing Toward the Light




Nordette Adams - The Green Green Grass
Sara Russell - The Obsessive Parts 1 and 2
--------------

✿✿✿✿✿✿✿✿

--------------